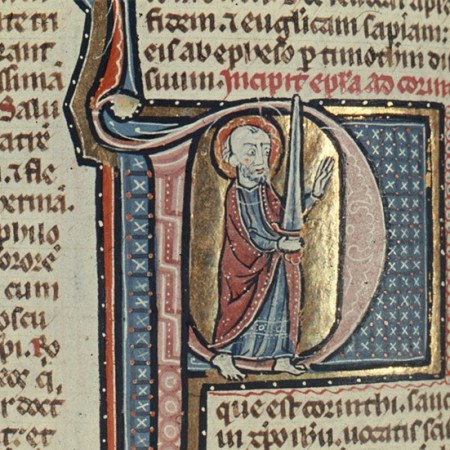 Workshop for Graduate Students and Junior Scholars: Rules, Regulations, and Regimes in Medieval Religion
Wednesday, June 21, 2023, 11.00 - 16.00 at Theological University, Plompetorengracht 3, Utrecht
See the Call for Papers here.
​----------------------------------------------------------
New! IGTM Regional Meetings / Neu! IGTM Regionaltreffen
The IGTM supports local and Regional Meetings for all those interested in medieval theology, whether (doctoral) students, junior scholars, or senior scholars. These can be Workshops, Reading Groups (e.g., for source reading under the guidance of an expert), or Exchange Forums for early career scholars. See the description here.
Im Sinne einer Vernetzung vor Ort unterstützt die IGTM auch lokale und Regionaltreffen von allen an der theologischen Mediävistik Interessierten, ob Studierende, Doktoranden, Nachwuchswissenschaftler/innen oder bereits etablierte Wissenschaftler/innen, z.B. in Workshops, gemeinsamer Lektüre mittelalterlicher Quellentexte unter Anleitung eines Mediävisten, Nachwuchsforen. Siehe die Beschreibung hier.
----------------------------------------------------------
Third Virtual Winter Lecture - February 2023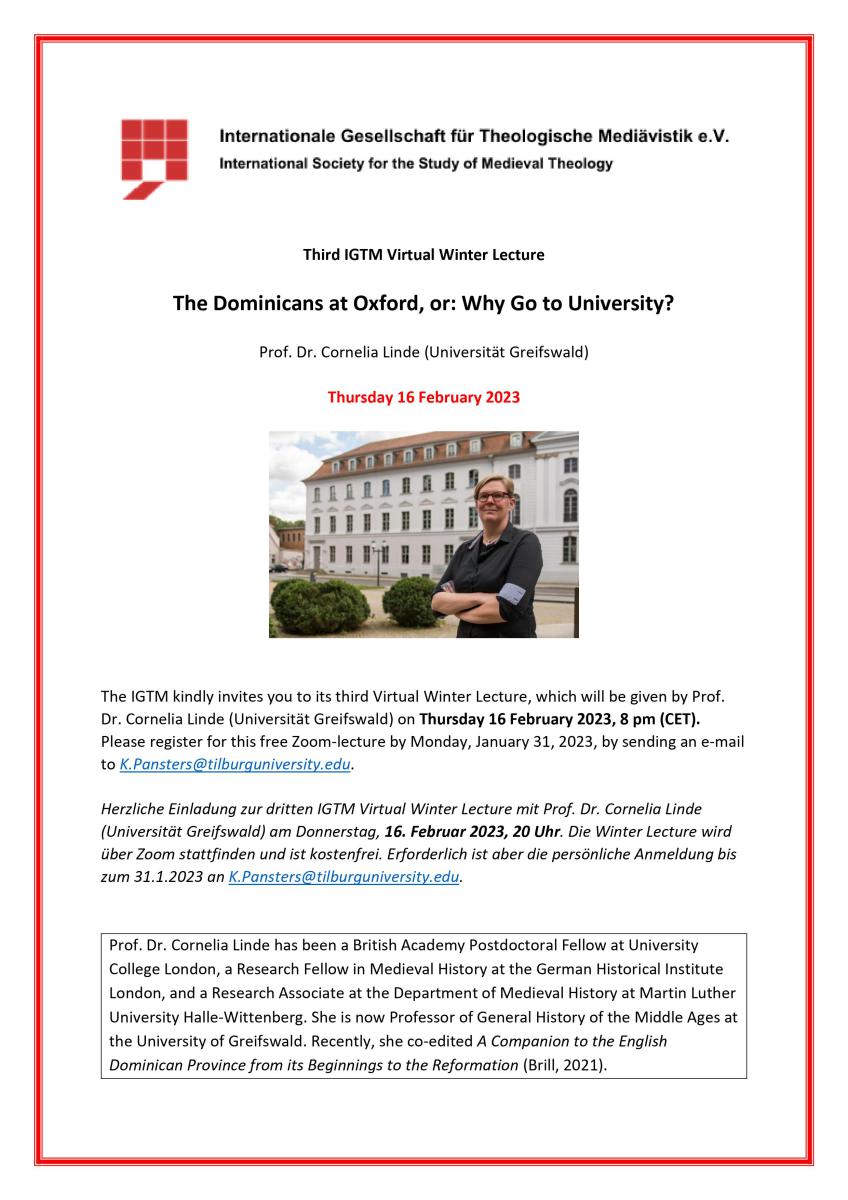 ----------------------------------------------------------
Annual Conference - Jahrestagung 2022:
Read the Conference Report here.
"Honorius Augustodunensis. Ein frühmittelalterlicher Bestsellerautor zwischen Originalität und Wirkung"
17./18. Juni 2022
Senatssaal, Hauptgebäude der LMU München, Geschwister-Scholl-Platz 1, 80539 München (1. Stock)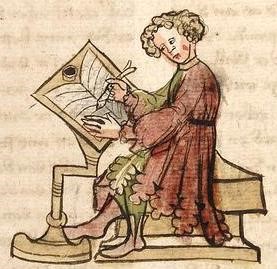 ----------------------------------------------------------
Second Virtual Winter Lecture - February 2022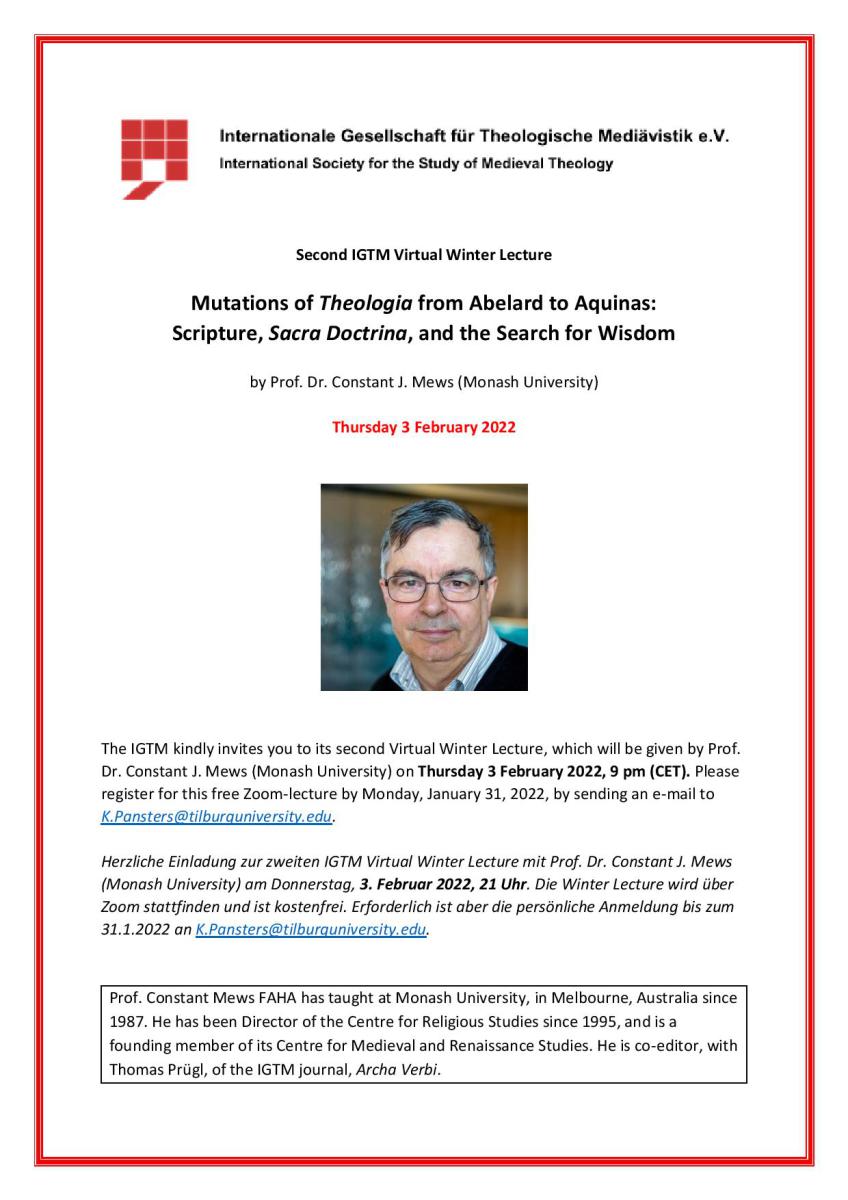 See the announcement (.pdf) here.
----------------------------------------------------------
Archa Verbi 17 (2020)
Aschendorff Verlag, Münster
Link to Aschendorff Verlag here.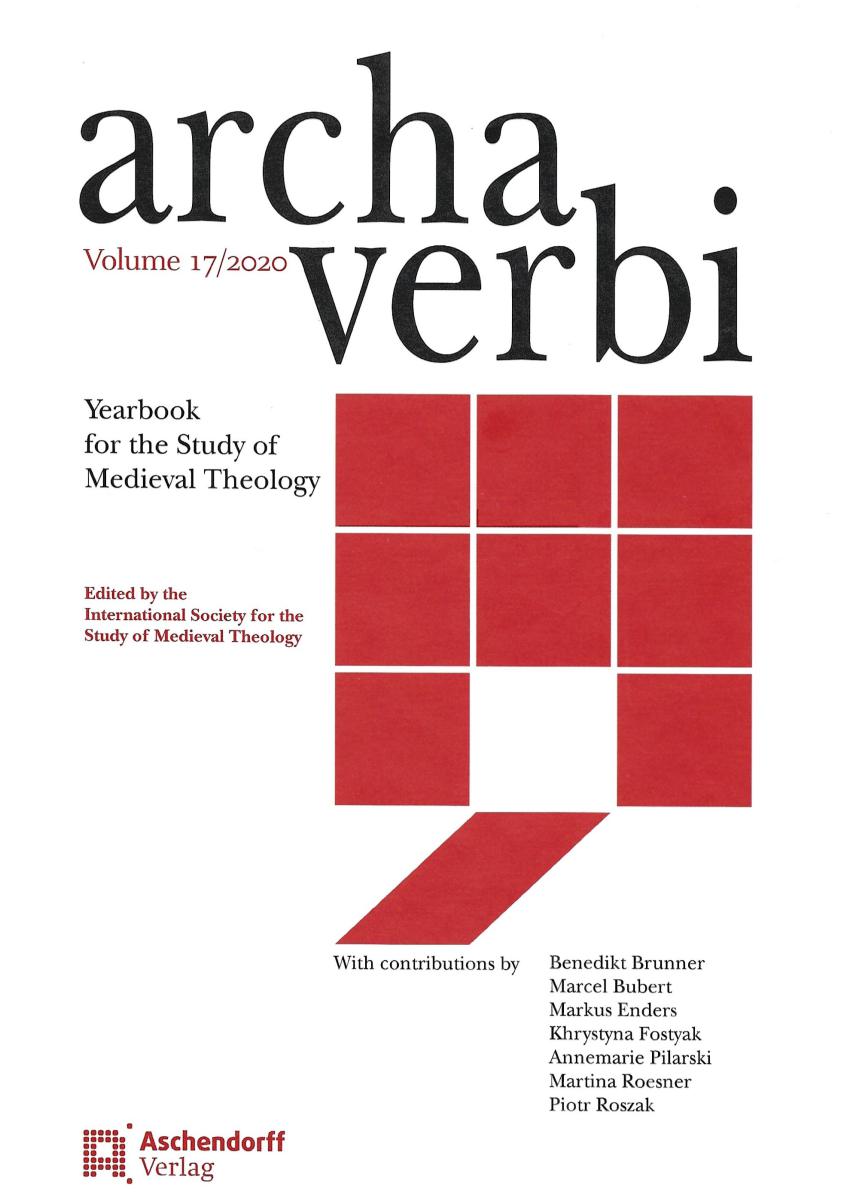 ----------------------------------------------------------
Annual Conference - Jahrestagung 2021:
Read the Conference Report here.
Dear IGTM members,
once again we would like to cordially invite you to our annual meeting from 29 June to 2 July. We had to move the conference from last to this summer and from beautiful Copenhagen to the virtual space. The theme, however, remained the same: Dominican Culture, Dominican Theology: The Order of Preachers and Its Spheres of Action (1215 – ca. 1600). The conference boasts a rich and promising programme, which can be read at www.dcdth.net/programme.
Unless you give a paper at the conference, please register at www.dcdth.net/register Registration is necessary in order to access the conference.
We are looking forward to "seeing" you in June/July! Please also spread the good news among your peers. You may use this leaflet.
Kind regards, also on behalf of the conveners John Slotemaker, Florian Wöller, and Ueli Zahnd,
IGTM Members of the Board
----------------------------------------------------------
IGTM First Virtual Winter Lecture 2021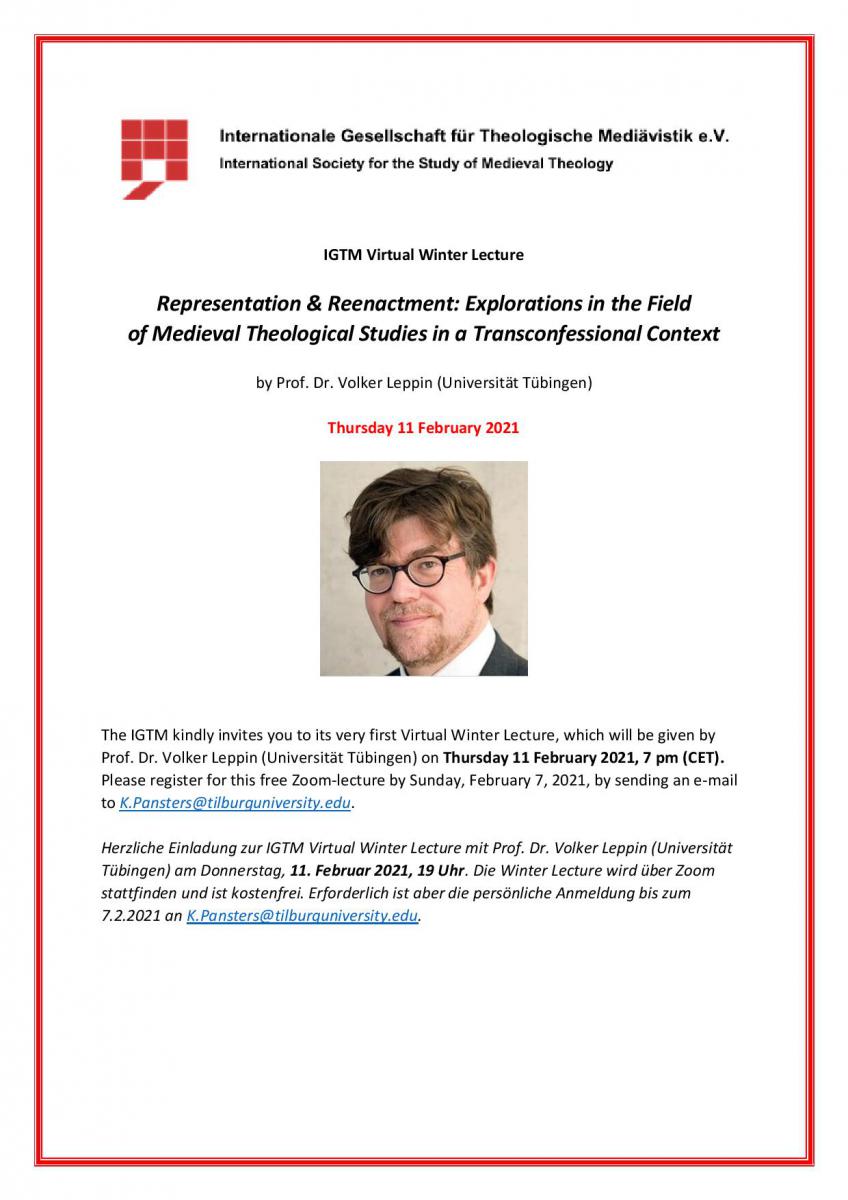 ----------------------------------------------------------
Letter from the Board / Brief vom Vorstand (December 2020)
Für Deutsch, siehe unten.
Dear members of the IGTM,
At the end of the year, we as Board of the IGTM warmly greet you and hope that this letter will reach you in good health. As everywhere else, the IGTM work in 2020 changed due to Covid-19, we had to postpone the announced conference in Copenhagen and, unfortunately, the publication of our yearbook got delayed. Whereas virtual meetings and conferences have appeared to be a blessing in many ways, we also look forward to meeting each other face to face in the near future.
With this letter, we would like to inform you about the upcoming activities of the IGTM: our Annual Conference in Copenhagen, the General Assembly with Board Election, the publication of the Archa Verbi yearbook, and the new "IGTM Winter Lecture" with Prof. Dr. Volker Leppin.
Annual meeting in Copenhagen, June 29, 2021 to July 2, 2021: "Dominican Culture, Dominican Theology"
The annual conference, planned for June 2020, will now take place in Copenhagen from June 29 to July 2, 2021. This most likely as a hybrid conference, in which both on-site and virtual participation will be possible. We are very grateful to the organizers of the conference, Florian Wöller, John Slotemaker and Ueli Zahnd, for their continued effort to make this conference possible. In a few days, a new Call for Papers will be sent out. You are kindly invited to this conference, either in person or online, in Copenhagen! More information will follow soon.
IGTM General Assembly with Board Election, at the Conference
The general assembly will most likely take place at the annual conference in Copenhagen. As the elections of the board members are also due in 2021, we are now looking into all possibilities of physical and/or online election. The invitation to the general assembly and the description of the election procedure will be sent out to the members no later than March 2021.
Unfortunately, due to corona, the appearance of the Archa Verbi Yearbook 16 (2019) has been extremely delayed. We are very sorry for the delay and we will make up for it with a very exciting collection of new articles. Archa Verbi 16 (2019) will be published in the next few weeks and work on the next volume (2020) is already well advanced, so that it will be published in the first half of 2021. We would like to thank Thomas Prügl and the editorial team for their work under difficult conditions this year.
IGTM Winter Lecture with Prof. Dr. Volker Leppin, Thursday 11 February 2021, 7 p.m. (CET)
The board of IGTM is thrilled to invite you to our very first Winter Lecture. The lecture will be given by Prof. Dr. Volker Leppin (Universität Tübingen and former IGTM president) and the title of his paper is: Representation & Reenactment: Explorations in the Field of Medieval Theological Studies in a Transconfessional Context.
The Winter Lecture will take place via Zoom and we ask that you register by Sunday, February 7, 2021, by sending an e-mail to K.Pansters@tilburguniversity.edu . Following your registration, you will receive a Zoom link from us a few days before the event.
Do take a look at the IGTM Facebook page and the IGTM website. If you have any suggestions or ideas for IGTM, please do not hesitate to contact us (info@medievaltheology.org).
As Members of the Board of IGTM we wish you all the best and hope to see you again in 2021. With my colleagues from the Board, Jan C. Klok, Ulrike Treusch and Ines Weber,
K.Pansters@tilburguniversity.edu
Sehr geehrte, liebe Mitglieder der IGTM,
wir grüßen Sie als IGTM-Vorstand zum Jahresende und hoffen, dass diese Zeilen Sie bei guter Gesundheit erreichen. Wie überall hat sich auch die IGTM-Arbeit im Jahr 2020 durch Covid-19 verändert; wir mussten die geplante Tagung in Kopenhagen verschieben und auch die Publikation des Jahrbuchs verzögerte sich durch die ungeplanten Umstände. Obwohl sich die digitale Kommunikation und virtuelle Tagungen in vielerlei Hinsicht als Segen herausgestellt haben, hoffen wir für das kommende Jahr doch wieder auf persönliche Begegungen innerhalb der IGTM. Mit diesem Brief möchten wir Sie über die anstehenden Aktivitäten der IGTM informieren: die Jahrestagung in Kopenhagen, die Mitgliederversammlung, die Publikation des Jahrbuchs Archa Verbi und die neue "IGTM Winter Lecture".
Jahrestagung in Kopenhagen, 29.6.2021 bis 2.7.2021: Dominican Culture, Dominican Theology
Die für Juni 2020 geplante Jahrestagung wird nun vom 29. Juni bis 2. Juli 2021 in Kopenhagen stattfinden und zwar aller Voraussicht nach als hybrider Kongress, an dem sowohl die Vor-Ort-Teilnahme als auch eine digitale Teilnahme möglich sein wird, so dass auch bei Reisebeschränkungen allen Interessierten und Beitragenden die Teilnahme möglich sein wird. Wir sind den Organisatoren der Tagung, den Kollegen Florian Wöller, John Slotemaker und Ueli Zahnd, sehr dankbar, dass sie alles versuchen, um den seit langem vorbereiteten Kongress durchzuführen. In den nächsten Tagen wird zudem noch einmal ein Call for Papers verschickt werden für diejenigen, die bisher noch keinen Beitrag angemeldet haben, sich aber 2021 doch gerne mit einem Beitrag beteiligen möchten. Schon jetzt herzliche Einladung, in Kopenhagen in persona oder virtuell dabeizusein! Weitere Informationen folgen.
Mitgliederversammlung mit Vorstandswahl
Auf der Jahrestagung in Kopenhagen wird – so die derzeitige Planung – auch die IGTM-Mitgliederversammlung, turnusgemäß mit der Wahl der Vorstandsmitglieder, stattfinden. Wir prüfen derzeit die Möglichkeiten einer Online-Wahl, falls aus bekannten Gründen vielen IGTM-Mitgliedern die persönliche Teilnahme in Kopenhagen nicht möglich sein sollte. Spätestens im März 2021 erhalten Sie mit der Einladung zur Mitgliederversammlung weitere Informationen, auch zum Wahlmodus.
IGTM-Jahrbuch Archa Verbi
Leider hat sich wegen Corona auch das Erscheinen unseres Jahrbuchs Archa Verbi 16 (2019) stark verzögert. Wir bitten um Entschuldigung für diese Verspätung und können jetzt versichern, dass Archa Verbi 16 (2019) in den nächsten Wochen erscheinen wird. Auch die Arbeiten am Folgeband (2020) sind schon weit gediehen, so dass mit dessen Erscheinen im ersten Halbjahr 2021 gerechnet werden darf. Wir danken Thomas Prügl und seinem Redaktionsteam für die Arbeit unter erschwerten Bedingungen.
Neu! IGTM Winter Lecture, gehalten von Prof. Dr. Volker Leppin, 11.2.2021
Damit sich interessierte IGTM-Mitglieder bereits vor der Jahrestagung in Kopenhagen – virtuell – begegnen können, laden wir herzlich ein zur ersten "IGTM Winter Lecture" am Donnerstag, 11. Februar 2021, 19 Uhr. Wir freuen uns sehr, dass Prof. Dr. Volker Leppin (Universität Tübingen und ehem. IGTM-Vorsitzender) zu "Representation & Reenactment: Explorations in the Field of Medieval Theological Studies in a Transconfessional Context" sprechen wird!
Die Winter Lecture wird über Zoom stattfinden und dazu erbitten wir Ihre Anmeldung bis Sonntag, 7. Februar 2021, an K.Pansters@tilburguniversity.edu . Sie erhalten dann einige Tage vorher von uns den Zoom-Link zugeschickt, mit dem Sie sich zur Winter Lecture zuschalten können. – Herzliche Einladung!
Schauen Sie auch einmal auf der IGTM-Facebookseite oder der IGTM-Website vorbei, und wenn Sie noch Anregungen für unsere IGTM-Arbeit haben, dürfen Sie sich immer gerne an uns wenden (info@medievaltheology.org).
Wir wünschen Ihnen als IGTM-Vorstand alles Gute und hoffen, Sie 2021 virtuell oder persönlich wiederzusehen. Zusammen mit meinen KollegInnen aus dem Vorstand, Jan C. Klok, Ulrike Treusch und Ines Weber, grüße ich Sie freundlich
K.Pansters@tilburguniversity.edu